How To Increase Engagement On LinkedIn: One Simple Trick You Should Try ASAP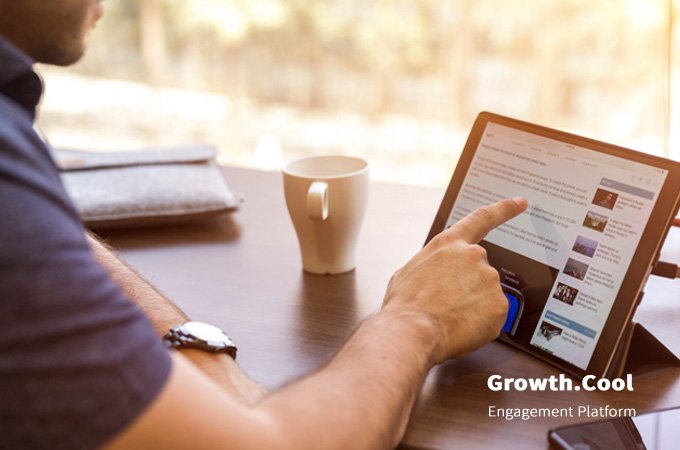 Do your posts gather hundreds of likes and comments or are you wondering if you've mistakenly blocked all of your followers from seeing your posts? With this simple trick, you will no longer puzzle over how to increase engagement on LinkedIn. You just need to take this one easy step:
Step #1: "Please, read this post and comment with the part of the article you liked the most."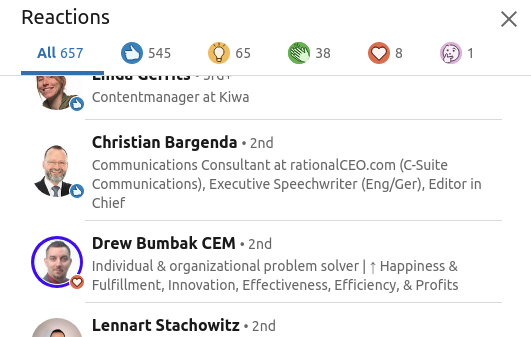 10x post views in 24 hrs
*no credit card required
That's it! An innocent request to comment on your post turns into an elegant tactic boosting LinkedIn engagement.
However, you should clearly understand how to invite users to join a conversation in an unobtrusive way that doesn't appear, frankly, like annoying spam.
In this article, we will teach you all the nuances of creating and promoting engagement triggering content. As a result, you will be able to create a post with 30+ comments and about a hundred likes. That's your goal, right?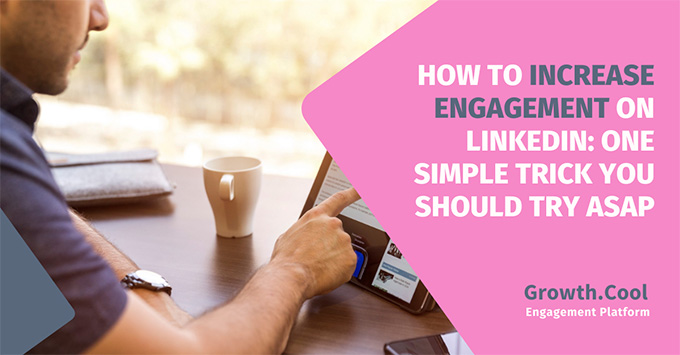 How to get engagement on LinkedIn: Table of Contents
How to create a solid piece of content that your LinkedIn users would love to discuss
No matter how charming your invitation to participate in the post discussion is, if the presented content lacks quality and is irrelevant to your target group, you're unlikely to attract the readers. That's where the basic rule of our guide 'How to get more engagement on LinkedIn' comes in. Content is the foundation.
First off, you need to select the topic based on the interests of your target audience (TA). Define the areas of interest of users who you want to reach. Are they fascinated by the web development sector? Then, it would be nice to put down a list of the latest web development trends or compare popular frameworks.
The idea is simple — find out the things your TA is keen on and select some trendy or educational topics about them.
By the way, here are the most efficient types of content you can use to boost engagement:
How-to guides
Step-by-step tutorials
Checklists
Case studies
Research
Interviews
Videos
Infographics
People really adore these forms of content!
Critical LinkedIn engagement stats you should know about
Here are a few critical LinkedIn stats that will give you a better understanding of the social network ranking algorithm:
There are just 1 or 1.5 posts that fit on a mobile screen.
Most users scroll down +-10 posts during one session.
Top posts in your newsfeed have a high engagement rate — a lot of likes and comments. Typically, 100+ reactions and 30+ comments. These numbers are individual for every user and depend on the activity of your connections.
LinkedIn ranking algorithm explained: As you can see, the number of impressions and clicks are directly related to the number of likes and comments your post collects. The higher your initial audience reach is, the higher outcome is expected when the social network algorithm for hot content will be triggered.
Any social network shows "hot" content more often compared to posts with low engagement. Even if your content is interesting and is designed for a specific audience, most of your connections will never see it because the social network determines that it's not necessary to show your post.
Tips on how to get more engagement on LinkedIn with an eye-catching post
Plain text isn't something that will catch users' interest in the newsfeed. To grab their attention, and most important, to motivate them to leave their feedback, you should create an eye-catching post. That's how you can also raise your rating in the eyes of social networks.
Whereas writing content itself must be based on your readers interests, the promotion tricks may be quite generic and suitable for all industries. The common task of your post is to trigger as many clicks on the inserted link as possible.
Follow these tips and ways to increase LinkedIn engagement:
Intrigue the users with a title
First things your audience sees in the newsfeed are the title and short blurb of your post.
That's why you have to come up with a catchy title that will make a user stop scrolling and want to read further.
The main triggers that can spark users' interest are urgency, curiosity, and emotions. Thus, test trigger words such as these in the title:
Suddenly
Now
Announcing
Introducing
Improvement
Amazing
Sensational
Remarkable
Reinforce the post with vivid visuals
The same as a title, an accompanying image is the focus of your post that users see immediately. An eye-grabbing picture and a title are very important for high conversion from views to clicks.
Thus, your task is to create a visual that stands out from your reader's feed. You can experiment with the color scheme, typography, design techniques and image types. Besides static pictures, LinkedIn also accepts videos and animated GIFs which are a great way to catch attention.
Check out the link and post preview
Have you created a cutting-edge post and prepared a striking post intro? Well, let's share your  article with the LinkedIn community!
BUT, stop! One last thing to check. Before publishing, make sure that everything is displayed correctly. Is LinkedIn processing the embedded link correctly and showing the picture, title and
description as you expect? Well, you're good to go!
Important! If you use any automated social media management tool (like Buffer), check out how your post appears in the preview mode. Pay attention to the appearance of the link and visuals. Keep in mind that Buffer prefers static pictures to GIFs. So even if you have an animated GIF on your web page, after processing Buffer may turn it into a static image in the feed. In this case, think about embedding the image into the post manually.
Include an engaging call-to-action
Finally, here we are! It's time to reveal our little trick and show you how to increase engagement on LinkedIn in one easy step.
Easy ways to increase Linkedin engagement: TRICK EXPLAINED
One of the most important aims of the post is to boost engagement and get users' reactions. These can be commenting, liking or sharing. To implement our trick, let's place a call-to-action right in the post intro: ask users a question or request them to react with specific reaction type, eg. comment.
That's what we did in the very beginning when asking you to comment with the part of the article that you liked the most. It's just an example and you can experiment with the CTA in your own way. Turn on the creativity!
A few important notes:
– Keep in mind that the requested action must be simple and straightforward. Ideally, give users direct instructions: for example, ask them to comment with "+" to access some exclusive material or ask open questions on the topic.
– To repeat our technique, prepare a post divided into several parts with subtitles. The more, the better, but you may start with just five parts. In this way, users will be able to structurize the material and choose the part that they liked the most.
– As we've already stated, there is no need to come up with a unique CTA in the post. Quite generic phrases would be enough to boost engagement on LinkedIn. However, try to select the CTA to match with your content in terms of topic, style, and tone of voice.
– Readers must see that they are not alone in commenting. Ideally, you should take care of the initial LinkedIn engagement and collect the first comments. For example, ask your friends or colleagues to evaluate the post and comment on it.
Boost engagement instantly with Growth.Cool
Do you want to drive the LinkedIn ranking algorithm but are challenged with the initial post engagement? Not a problem! With Growth.Cool, you can boost your LinkedIn engagement rate from zero to hero, by showing your followers that it is ok to participate.
Just in one easy step (by copy-pasting the link to the GC dashboard), you can boost your posts and generate the requested number of likes and comments within minutes. Try Growth.Cool right now to automate the process of collecting the first reactions and make the social network see that your posts are adored by the community!
*no credit card required
More information about how it works