Top 4 Tips To Get Likes On LinkedIn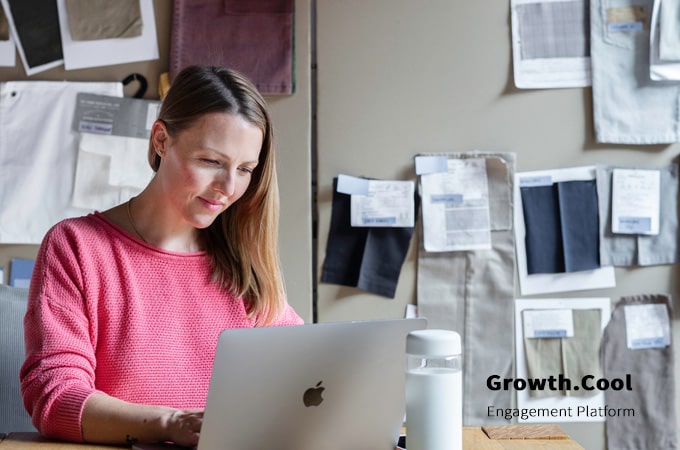 LinkedIn is an awesome platform.
It gives us an ocean of opportunities to grow our business.
Yes, we care about likes and comments on LinkedIn. The more people engage with our content, the more people will see it on LinkedIn.
LinkedIn algorithm will take care of it, be sure!
Here are 4 ways that you can implement to drive more likes, comments, shares and reposts on LinkedIn.
Let's dive in.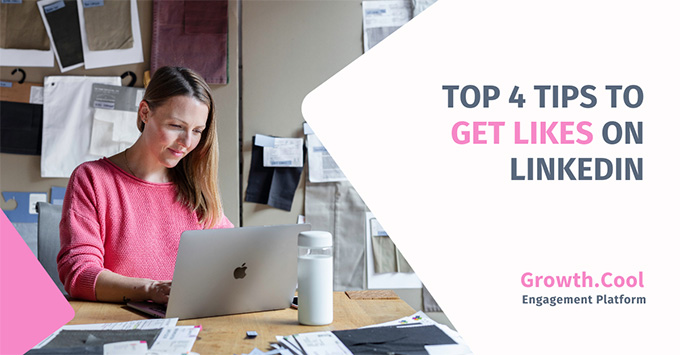 Way #1. Keep It Simple!
Nowadays the social networks try to add as much functionalities as they could.
Idea is simple – keep people on the platform. Hold the attention and earn dollars.
BUT LinkedIn is a professional network. It's different. Here are business people doing business. Sometimes to have some fun, but still to do business.
It's important.
We should care about LinkedIn users' time and attention.
So, plain text is key to engagement. Continuous tests and experiments prove that every time.
You'd better focus on the headline that grabs attention rather than next eye-catchy image or gif.
Text-Only will serve you just fine, so keep it simple.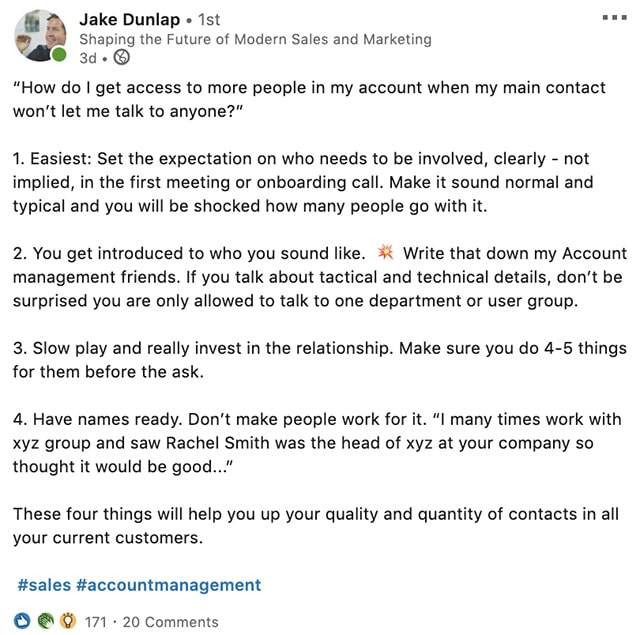 source: linkedin.com
Way #2. Not A One-Way Relationship
Kind of paradox. No?
Almost all businesses have the same strategy: buy-buy-buy and then leave.
Transactional relationship, that's all((((
LinkedIn is just a great place to reach people, to share with them content, to answer their questions, etc. They engage with it.
But we don't engage back. We just expect that they will like, comment, click, and engage.
We are looking for new connestions and leads, so our content strategy on LinkedIn looks like:
Find idea => Create post => Go live => REPEAT
You see?
We expect people to engage, but rarely do it ourselves.
I know, I know how busy we all are…
Still. Engagement should come from our side either.
We could pose a question, comment on our post, respond to some comments, ask for feedback, etc.
We all human beings, we like to interact.

source: linkedin.com
You should treat our audience like people, talk to them, and discover their opinions and ideas.
At the end, it will be not only a goldmine for your business, but you also get needed engagement.
By the way, with some part of the needed engagement, we could help.
It will save you a ton of time and money.
We can deliver so needed likes, comments and reposts to your content within "golden hours". So LinkedIn algorithm thinks your posts should be visible to a wider audience.
Here you are!
Here you get the real visibility boost on LinkedIn (with Growth.Cool).
No need to pay for ads or use engagement pods. You can read more about it at the end of the post + start your free trial. 100 likes and 50 comments for free!
Even though we help with some part of the engagement equation, you still need to engage back. It worth it!
Way #3. Test-Test-Test
Do we know what is the most underestimated problem with 99% of businesses?
Sure we do.
Not knowing your target audience. As simple as that!
But do we really know our target audience?
I mean truly knowing: understanding its pains, fears, dreams, desires.
What do they do on Mondays morning?
How do they spend their weekend?
When they are most engaged with your content on LinkedIn, for example.
Etc.
So if our goal is engagement, we should test-test-test to discover when our content resonates with our audience, for example.
Every audience has its unique timing for engagement. When it's most inclined to read, like, comment.
And this is what we need – to know when is the best timing to publish. Analytics and experiments schedule will help us find out.
As a baseline, you can use Sprout findings and evolve from there.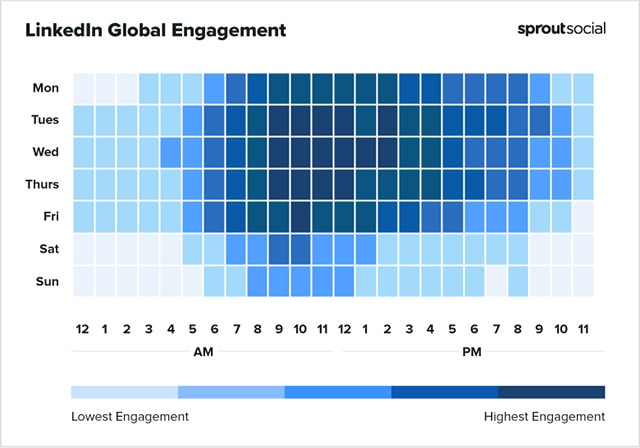 source: sproutsocial.com
Please don't fill all the gaps with your experiments, just one at a time. And speed is by far more important than excellence.
Way #4. Post Consistently
LinkedIn promotes those who post frequently.
Why?
Cause all social networks like when users are constantly on the platform. And LinkedIn is not an exception.
Content needed to make people stay there.
It's suggested to post 3-5 times a week. So scheduling 4 posts per week will get you so needed engagement.
But please always keep quality over quantity. Your followers are waiting for new content from you. So the key to engagement is also to deliver relevant and valuable content.
It's easy to talk about engagement and how tough and time-consuming to get it.
Especially when you spent so much time and efforts on content creation…
But we have something to offer to make your life easier and help your business grow faster.
So, please read the part below.
Take your LinkedIn Content Strategy to the next level with Growth.Cool
Social networks want you to spend a ton of money in ads spend to make your posts visible, to reach your audience, to promote your business and generate more leads. BUT we have a better solution for YOU!
 LinkedIn post. When you post on LinkedIn, the algorithm first shows your post to your nearest network. Small part of it, kind of sample.
 Engagement rate. Based on the comments and likes, the algorithm decides whether the content is relevant/useful/interesting or not. Whether it worth distributing further.
 Pass the test. If the rate is promising, especially within the first couple of hours after publishing, LinkedIn shows the post to the wider network and so on.
 Avalanche effect. If your content continues to get a high engagement rate (comments, likes, and re-posts), LinkedIn expands it exponentially. Your content goes VIRAL.
So what do we do?
We engage with your posts on LinkedIn to give your content initial engagement boost, so needed and so critical! So that your LinkedIn CONTENT can get the highest possible reach ever!
and get 100 likes delivered when they are so needed!
*no credit card required
Questions? Drop as a line at info@growth.cool